News
Carlos Sainz takes his first pole at a wet weather British GP Qualifying! FP3 and Quali highlights
In a staggering lap at the very end, Sainz pipped Verstappen for the top spot as a strong looking Hamilton falls to P5.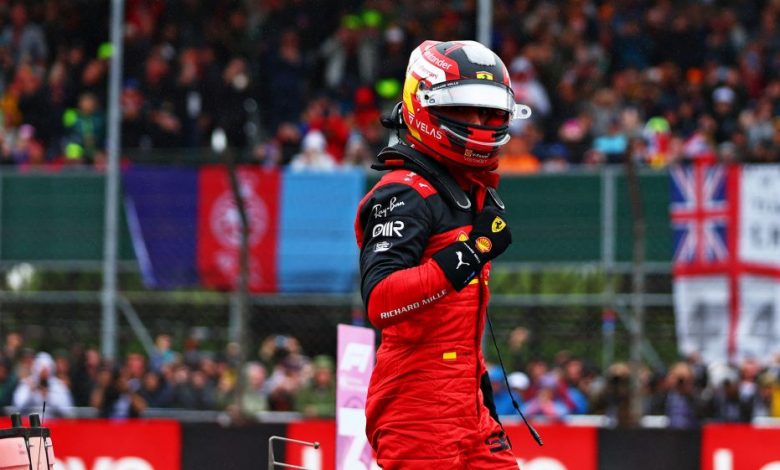 If Sainz was to ever have a Masterclass of his own, it should be this qualifying pole lap at Silverstone. He pipped Verstappen by less than a tenth of a second on a day when Verstappen was nearly out of everyone's reach. Even Charles Leclerc who spun out in his last flying lap causing a yellow flag. Beating Verstappen on a day when he was almost untouchable and no one could get within four-tenths of him is a feat for the resume. Veratappen was so fast that even when he spun in his first flying lap, he still sat P3 ahead of Lewis Hamilton. Sainz showed his race craft in the rains. Things seemed very different in FP3 though as Lewis finished P5. Let's have a look at the highlights.
FP3
Max Verstappen bounced back from a disappointing Friday to set a scintillating pace heading a RedBull 1-2 from the final Free Practice session. The championship leader clocked a 1m 27.901s, an impressive four tenths clear of team mate Sergio Perez, with the Ferrari of Charles Leclerc third, a few hundredths further back as the predicted rain held off. Mercedes' upgrades also seem to have worked well with Russell and Hamilton finishing P4 and P5, closer to the frontrunners. It was Carlos Sainz from the top-6 who was suffering with bouncing in the high speed corners as he radio-ed his team that it wasn't any better than Friday. He finished P6 with a total of six-tenths separating the top 5.
It was Mclaren's Lando Norris with another impressive performance as he finished P7 at 1.2s off Verstappen. Bottas, Schumacher and Alonso rounded up the top 10 with an impressive performace from Mick pipping Alonso for P9. Overnight gains seemed to have worked really well for the Haas team. Williams seemed pleased with their upgraded car as it finished P14 with only the Thai driver Alex Albon getting the upgrades. Here is the time-sheet from FP3:
POS
DRIVER
TIME
GAP
LAPS
1
1
 
RED BULL RACING RBPT
1:27.901
18
2
11
 
RED BULL RACING RBPT
1:28.311
+0.410

s

21
3
16
 
FERRARI
1:28.348
+0.447

s

21
4
63
 
MERCEDES
1:28.426
+0.525

s

21
5
44
 
MERCEDES
1:28.488
+0.587

s

24
6
55
 
FERRARI
1:28.689
+0.788

s

21
7
4
 
MCLAREN MERCEDES
1:29.102
+1.201

s

20
8
77
 
ALFA ROMEO FERRARI
1:29.185
+1.284

s

20
9
47
 
HAAS FERRARI
1:29.510
+1.609

s

21
10
14
 
ALPINE RENAULT
1:29.520
+1.619

s

20
11
31
 
ALPINE RENAULT
1:29.552
+1.651

s

24
12
5
 
ASTON MARTIN ARAMCO MERCEDES
1:29.593
+1.692

s

25
13
24
 
ALFA ROMEO FERRARI
1:29.752
+1.851

s

17
14
23
 
WILLIAMS MERCEDES
1:29.780
+1.879

s

22
15
10
 
ALPHATAURI RBPT
1:29.885
+1.984

s

23
16
18
 
ASTON MARTIN ARAMCO MERCEDES
1:29.892
+1.991

s

26
17
22
 
ALPHATAURI RBPT
1:30.039
+2.138

s

22
18
3
 
MCLAREN MERCEDES
1:30.293
+2.392

s

21
19
6
 
WILLIAMS MERCEDES
1:30.489
+2.588

s

16
20
20
 
HAAS FERRARI
1:30.523
+2.622

s

19
Qualifying
Hands down the most interesting, on the edge of my seat qualifying of the season so far. The fact that Max went on to have 4 flying laps one after the other due to spinning in the first two yet being almost impossible to beat and then Carlos Sainz taking the pole is enough to paint a picture. Sainz was 0.072s ahead of Verstappen, with Leclerc P3, 0.315s off his team mate with both Leclerc and Verstappen having suffered spins in Q3 while on promising flying laps towards the end of the session.
Sainz put his final lap to stop the clocks at 1m 40.983 and take P1 with a scintillating effort he simply called "terrible". He couldn't believe he got pole with that lap when he was told on the radio and this goes on to show what confidence can do in Formula 1. Sainz has been pushing so hard in 2022 without any success which led him to believe that his pole lap was "terrible." On the weekend of his 150th Grand Prix start, he deserved every bit of this success. The presence of John Wick himself – Keanu Reeves in the Ferrari paddock seemed to have done something special for the red team when they really needed it.
In P4 was Sergio Perez who seems to have lost his ground of Monaco ever since as he is not able to come even close to Verstappen. Lewis Hamilton went P5 feeling gutted as he wanted to be at least in the top 3 for his home race and looked set with the pace until we had more rain in Q3. Changes to the Mercedes floor and downforce seemed to have worked some bit as they close the gap to the top teams. Mercedes generally have had strong race pace o, tomorrow will be even more interesting with them getting in the mix. Hamilton's teammate Russell couldn't cope well with the conditions as he continued to struggle finishing P8 with the Mclaren of Lando Norris and Alpine's Fernando Alonso separating the Mercs.
It was Nicholas Latifi who gained a lot of highlights wualifying P10 as he got into his first Q3 and Williams' first Q3 for 2022. Latifi out qualified his teammate Alex Albon who got the upgraded car this weekend so the feelings at Williams were bitter-sweet. Here's the qualifying sheet from today:
POS
DRIVER
Q1
Q2
Q3
1
55
 
FERRARI
1:40.190
1:41.602
1:40.983
26
2
1
 
RED BULL RACING RBPT
1:39.129
1:40.655
1:41.055
24
3
16
 
FERRARI
1:39.846
1:41.247
1:41.298
26
4
11
 
RED BULL RACING RBPT
1:40.521
1:42.513
1:41.616
26
5
44
 
MERCEDES
1:40.428
1:41.062
1:41.995
23
6
4
 
MCLAREN MERCEDES
1:41.515
1:41.821
1:42.084
26
7
14
 
ALPINE RENAULT
1:41.598
1:42.209
1:42.116
23
8
63
 
MERCEDES
1:40.028
1:41.725
1:42.161
23
9
24
 
ALFA ROMEO FERRARI
1:40.791
1:42.640
1:42.719
28
10
6
 
WILLIAMS MERCEDES
1:41.998
1:43.273
2:03.095
24
11
10
 
ALPHATAURI RBPT
1:41.680
1:43.702
19
12
77
 
ALFA ROMEO FERRARI
1:41.396
1:44.232
20
13
22
 
ALPHATAURI RBPT
1:41.893
1:44.311
19
14
3
 
MCLAREN MERCEDES
1:41.933
1:44.355
18
15
31
 
ALPINE RENAULT
1:41.730
1:45.190
17
16
23
 
WILLIAMS MERCEDES
1:42.078
11
17
20
 
HAAS FERRARI
1:42.159
11
18
5
 
ASTON MARTIN ARAMCO MERCEDES
1:42.666
9
19
47
 
HAAS FERRARI
1:42.708
11
20
18
 
ASTON MARTIN ARAMCO MERCEDES
1:43.430
10
Race day at Silverstone is always special. The characteristics of the track – smooth with high speed corners makes it a very interesting circuit for F1. One that most drivers seem to enjoy. It's going to be redemption for both Leclerc and Verstappen but with Carlos P1, there is even more complexity to this race now. Hamilto, Russell and Norris will all look to set an impression at their home race as the RedBull team try to pip Ferrari for it is RedBull's home as well! Their Milton-Keynes HQ being 15 mins away from the track itself. Stay tuned!