Formula 1
Sainz wins his maiden F1 race as Zhou flips on the barriers! 2022 British GP highlights
Silverstone is a race to behold almost every year. The jam packed arena with loads of fans, a spectacular circuit and unpredictable weather make it the perfect spot for F1's best racing.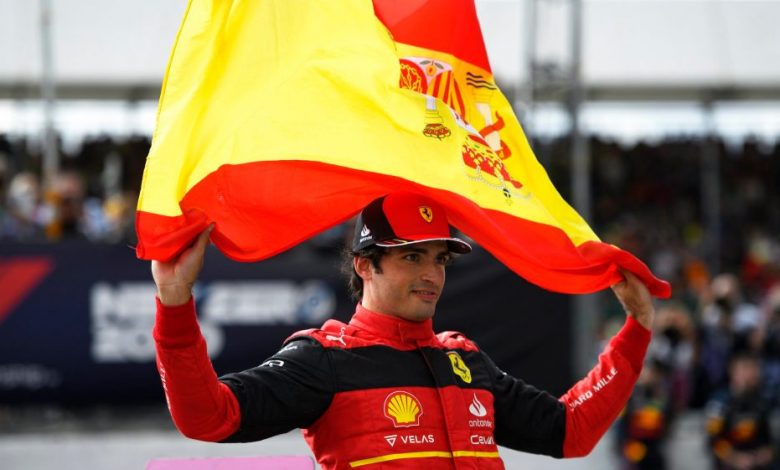 Just like every year, the 2022 British Grand Prix was spectacular. those who watched it feel sorry for those who didn't because this was a race to behold. Silverstone, being the kind of high speed, fast corners track it is, brings out the best of everyone. Literally! Probably why we saw Nicholas Latifi qualify P10 in a Williams that did not receive any upgrades AND when the upgraded Williams was being driven by Alex Albon. Carlos Sainz took his first pole position here and he can now proudly say he won it as well. Fun fact, Sainz won in Formula BMW back in 2010 exactly here with a pole position followed by a race win!
It was another show for the British fans as they watched their home hero Lewis Hamilton battling out at the top spot for the win eventually finishing P3 on the podium. The roars from the crowd when Hamilton made a move on both Leclerc and Perez and went from P4 to P2 was so loud, it almost muted David Croft's commentary. "And through goes Hamilton." Anyway, this was just the gossip, let's jump right in to the highlights:
Race Start
It was lights out and away we went as Hamilton and Verstappen had a brilliant start as Verstappen overtook Sainz and Hamilton charged up to Leclerc. Leclerc and Hamilton soon had a fight but there was something else going on at the back which led to a red flag before the drivers could even finish the first sector of the race. Apart from the Zhou, Gasly, Russell tangle, Vettel ran in the back of Albon who narrowly avoided Ricciardo and ended up hitting Esteban Ocon.
Nicholas latifi made a brilliant start overtaking Both Zhou and Russell who weren't as quick of the line. Gasly saw this gap and tried to follow Latifi as Russell shifted ever so slightly towards the left. This squeezed Gasly between Zhou and Russell just as he was backing out and Zhou then made contact with Russell, flipping upside down, dragging along the track and gravel and then flipping from the barriers to land INSIDE the barriers. It was one of the most horrific crashes we have seen in a while making us appreciate the Halo even more. That very moment, Russell swiftly got out of his car and ran towards Zhou to help him and all I can say is Senna would be proud. It was a huge relief to see Zhou was all okay Since, all the drivers could not make it past the first sector in racing before the red flag, the rules were followed and restart was to happen with the qualifying grid lineup.
Race restart
The restart did not disappoint either. It was aggressive wheel-to-wheel racing between Verstappen and Sainz and Carlos did not yield to Verstappen. Perez followed behind and soon got in the mix as Hamilton was chased down and overtaken by a stunningly fast Norris. All this within the first few corners of the restart! Verstappen and Leclerc also touched twice during the scuffle but it was later on when Leclerc and Perez incident happened where Perez lost bits of his front wing and had to pit. DRS was enabled and Hamilton then got ahead of Norris amidst the loud roars of the 400,000 fans in attendance. Perez joined the race in P17. Then came Lap 10/52 where Sainz went wide and Verstappen quickly responded reducing their 0.7s gap to nothing as Max took the lead of the race.

Troubled for Max from Lap 12
Just 2 laps after taking the lead, max Verstappen suffered a puncture as he ran over some carbon bodywork on the track. He was overtaken by the two Ferraris. Even when he came out, he was informed of something wrong with his car although, it wasn't critical and he'd be able to continue. But, it took a huge hit on performance as Max kept battling in the mid-field with a terrific battle between him and Mick Schumacher for P7.
Ferrari team orders for a fasted Charles
Lap 31/52, Sainz is told to swap his position with Leclerc since Sainz's pace was not good enough. Sainz replied with "Copy." No one at that point knew the end result but I am sure it was an amazing feat for Sainz who won the race as he was told to do something to keep Charles in front at the end restart as well which he respectfully denied.
Lap 39 Safety car
THIS is what led to possibly the most eventful, racy and entertaining race in years. Lap 39, Esteban Ocon who was driving so well suffered a hydraulic issue, stopped on the track which brought out a safety car. The position at this point for the top 3 was that Hamilton had pitted for Hard tyres just 10 laps ago with a 4 second+ stop joining the race at P3 from P1 when he should have joined P2. Nevertheless, Lewis was reeling in Sainz while both the Ferraris had pitted a while ago. Hamilton and Sainz pitted under the safety car for fresh red softs while Leclerc maintained track position as Ferrari chose NOT to pit Leclerc for some reason.
Perez had made it up to P4 and this safety car was lady luck gifting him one of the best saves for such an abysmal race for RedBull. Even though Hamilton and safety cars haven't been a good pairing since 2021 Abu Dhabi, it wasn't as bad this time around even though Hamilton was questioning his team's tyre choice as he had just warmed his hard tyres enough before the safety car.
The race restart was very very entertaining. Sainz begged Ferrari to not push team orders as Ferrari wanted him to keep everyone behind Leclerc with a TEN car gap. Sainz didn't like it and said that he himself is under tremendous pressure from Hamilton who is also on fresh tyres. The restart happened, Sainz overtook Leclerc and went on and on as a legendary battle for P2 ensued between Perez, Hamilton and Leclerc. Perez quickly went ahead of Hamilton after the restart but Lewis reeled him in and stayed in the fight.
On lap 45, Just as Leclerc and Perez were fighting, they went wide and Hamilton didn't need a second invite as he took over two places on Turn 17 from P4 to P2 taking roaring cheers from the audience who were loving the drive of their home hero. Very close behind was Alonso battling Norris giving another spectacular racing battle to the audience. All in all, no matter where you looked, it was pure proper racing through and through. In P7 it was Verstappen vs. Schumacher who raced till the finish line where Mick was tested by Max as he made his aggressive moves making Schumacher yield or crash. It was absolute adrenaline flowing through.
Carlos Sainz Jr. finished P1 almost 3.5s ahead of Sergio Perez in P2 who took his position back from Hamilton in that vehemently fast RB18 on the straights. Hamilton graced the podium at his home race for the 13th time which is a record on a single track. Carlos Sainz took his first pole and victory after 150races as Perez deservingly won Driver of the Day for his superb performance.