Formula 1
Post-race analysis and driver ratings for the 2022 British GP!
The British GP showed a prominently dominant Ferrari and a strong comeback by Mercedes, which result in a nail-biting race finish, otherwise marred by a big crash and multiple DNFs.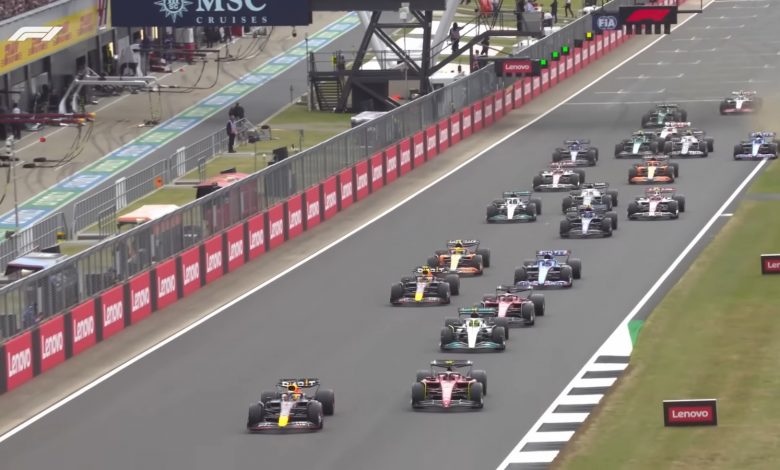 The 2022 British GP, being one of the fastest circuits on the F1 calendar, proved to be the thriller everyone expected it to be, especially at the end. The qualifying conditions were surely tricky with luck being more favourable for certain drivers. The race saw the teams switch through many strategies owing to the red flag and the yellow flags, ultimately leading to five different teams fighting for a podium.
RACE START
A lot of drama occurred at the race start, as the race leaders got away. Verstappen, starting P2 had a better start than Sainz who was P1, and pulled into the lead. They were followed by Hamilton who covered of Perez and overtook Leclerc as well. However, George Russell who was starting P8, had a relatively poor start, due to lack of tire temperatures thereby crashing into Guanyu Zhou (P9), after pushing too far left into Pierre Gasly who was sandwiched between the former two. This is what led to the now infamous car flip crash of the Chinese driver Guanyu Zhou. George Russell swiftly got out and ran to aid Zhou as he was stuck in the barrier. Thankfully, Zhou was out and walking by the time we saw the replays. All hail the Halo!
Nicolas Latifi (P10), who had a very good start immediately pushed through between Zhou and Russell as Gasly followed suit. Russell looked to cover off Gasly but misjudged the gap between himself and Gasly. Resultantly, Zhou's Alfa Romeo car flipped over into turn 1 and somersaulted into the tire barriers onto the catching fence, and Russell broke his rear axle, which led to his first DNF and first race finish outside the top 5. During this hassle, Aston Martin's Sebastian Vettel, who was starting P18, crashed into the back of Alex Albon (P16), who then spun around multiple times and crashed into Ocon and Tsunoda as well. Both Albon and Zhou were extracted from their cars and taken to the medical centers where, fortunately they were found out to be fine. Nevertheless, the race was red flagged for the next 45 minutes.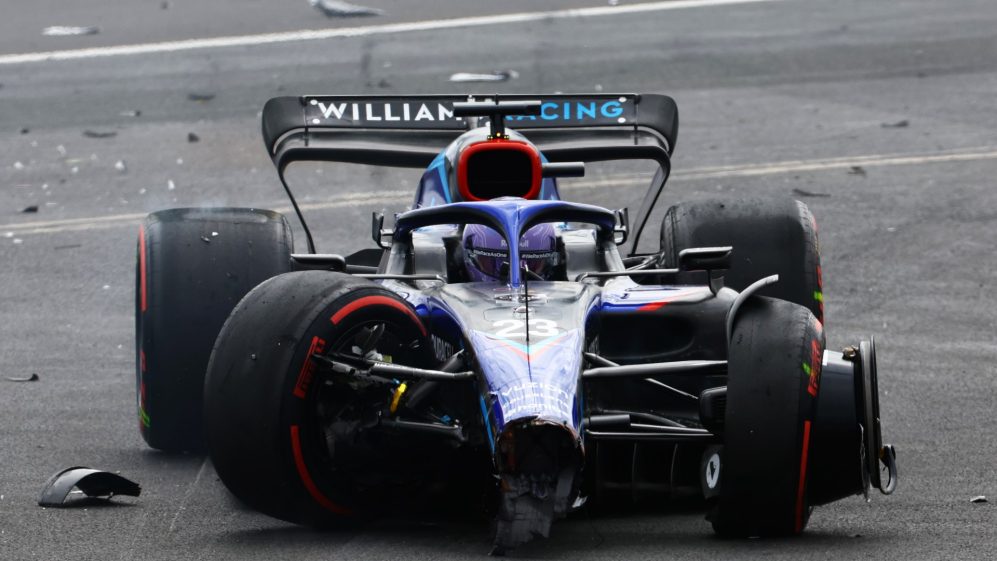 Albon had quite a few upgrades on his FW44 including a completely new sidepod and floor and looked strong in the practice sessions, but unfortunately it bore no fruit in the race due to this mishap. Zhou's crash also raised some eyebrows within the FIA about the car's roll hoop, which could not survive the initial roll, and it was the halo and other safety structures which prevented the driver's head from hitting the ground. Alfa Romeo has re-introduced a blade-like roll over structure which other teams have stopped using over the past years, due to its narrow structure, which could bury into soft surfaces if impacted wrongly.
Mercedes, Force India and Lotus F1 were the teams to have previously adopted this solution in 2010 and 2011 respectively. FIA had raised concerns regarding this and the teams haven't used this design since. However, the design used by Alfa Romeo has passed the requisite crash tests imposed by FIA for 2022. FIA will closely scrutinize the crash and car telemetry data and will be looking to suggest improvements.
RACE RESTART AND INITIAL FEW LAPS
The race directors decided to go for a standing start with the qualifying lineup again since all the drivers had not crossed sector 1 before the red flag. Alphatauri's Yuki Tsunoda had to go for a new front wing and Alpine's Esteban Ocon had his pushrod repaired after being granted permission to do so by the FIA. At the restart, Ferrari's Sainz had a better start this time and aggressively pushed Verstappen towards in the inside of the track. Perez also had a better start and took P3, going into turn 1, and by turn 4 was looking to overtake Verstappen as well, but instead had a scuffle with Leclerc, and both of them sustained front wing damage.
Perez went on to pit for a fresh set of tires and a new front wing, which put him at the back of the grid, but Leclerc continued the rest of the race without the endplate of his front wing. In lap 6, Hamilton who had a poor restart had found his pace again and overtook Norris with the help of DRS. On lap 10, under pressure from Verstappen, Sainz went off at turn 13, losing the race lead. But by lap 12, Verstappen seemed to lose pace heavily due to damage to the underbody of his car caused by debris. He lost significant performance and had to continue the whole race with this hiccup. RedBull introduced a radical new engine cover, for better cooling and aerodynamics but couldn't collect enough data because of this incident.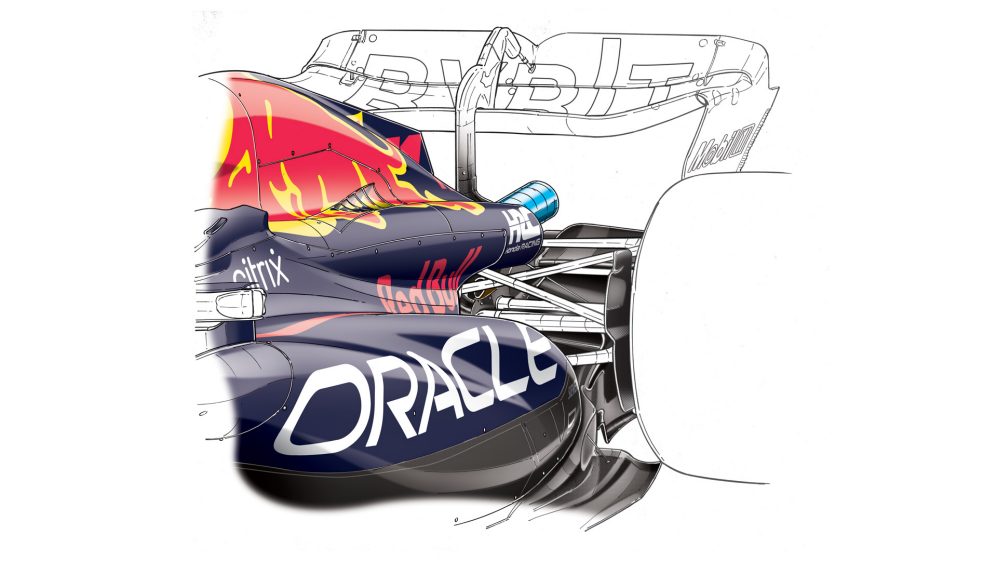 Also, in this lap, both Alphatauris turned in on each other at the tight right-handing Village corner and spun out, pushing both of them out of the points. Gasly, later on had to retire due to mechanical issues. Both Alphatauris were looking very strong with a potential points finish this weekend
Valtteri Bottas also had to retire his car due to gearbox problems, eventually resulting in a double DNF for Alfa Romeo.The team is still looking to resolve reliability issues 10 races into this season.
FERRARI SWAP CAR POSITIONS AND A SAFETY CAR CHANGES STRATEGIES
Most of the cars on the grid more or less had similar tire strategies with most cars, including Hamilton on Mediums and both Ferraris on Hard compounds. Despite leading the race, Sainz could not find the appropriate pace and was holding back Leclerc who was clearly making better lap times. The duo was following Hamilton who was having a brilliant drive and had an 18.9 second lead. On lap 31, the Tifosi decided to swap the cars. Leclerc immediately showed promise and zoomed away, despite having a broken front wing.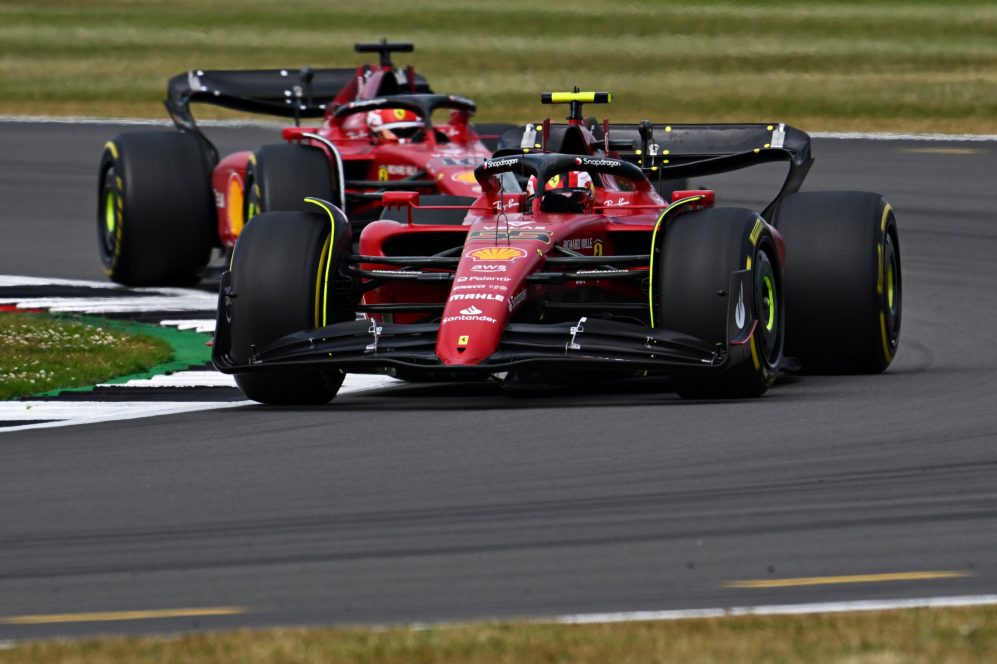 On lap 39, Ocon suffered a fuel pump issue, which caused him to stop on the old pit straight and bring out the yellow flags and the safety car, and become the 6th retirement of the race. During the safety car, most of the cars pitted frantically for soft tires. Surprisingly, Ferrari chose to keep race leader Charles Leclerc out on the track who was driving on 28 lap old hard slicks.
SAFETY CAR RESTART AND THE ENTHRALLING RACE TO THE FINISH
As the safety car went into the pits, the race engineer of Sainz asked him to grant some space to Leclerc, but as soon as the race started, he disregarded their directions and overtook his teammate in the next few corners. Leclerc on the other hand stumbled through the following positions. Hamilton, who was initially overtaken by Perez at the restart looked to overtake them both, turning it into a 3-way battle.
Perez, carrying more straight-line speed eventually pulled away for P2 and Leclerc fought off Hamilton for the time being for P4. Meanwhile, following drivers Alonso (P5) and Norris (P6) looked to join the battle for the podium as well for a short period of time, making the race a great treat for the spectators and the fans. Hamilton eventually, with the help of DRS overtook Leclerc on lap 48 and secured P3 for his team. Further behind, Verstappen and HAAS driver Mick Schumacher fought for P7, a battle which was intense up until the finish line. Verstappen, in spite of his car problems managed to keep Mick behind. Celebrations were made in the HAAS garage nevertheless because Mick scored his first F1 points and the team secured a double points finish for the first time.
DRIVER RANKINGS- 2022 BRITISH GP
P1- Carlos Sainz
The Spanish driver found his first ever F1 victory after 150 races, and no doubt had luck on his side, coupled with his strong grit converting his pole to victory. Amazingly, it was exactly this in Silverstone 12 years ago when Sainz had pole AND won at Formula BMW. During the race he couldn't find the complete pace, but could hold off his teammate and Verstappen at the race start with his skilful driving. After the VSC, with the new tires he was especially quick which led him to the race win!
Rating: 9/10
P2- Sergio Perez
The brilliant drive and comeback shown by the Mexican driver showed his worth as a RedBull driver. Even though he had a poor race start initially, his last-to-2nd position drive is reminiscent to his similar feat in Sakhir 2020 where he claimed the race win. Although he also had lady luck to aid him with the safety car at the end, he no doubt showed again why he is deserving of a seat at RedBull. His fearless battles with Sainz, Leclerc, Hamilton and his teammate Max as well showed his mettle and was awarded with the Driver of the Day accolade for the same. It should also be noted that he was catching up to Sainz very quickly in the end and given a few laps more could vie for P1 as well.
Rating: 9.5/10 
P3- Lewis Hamilton
As always, the Briton was clean and clinical with his drive and delighted his home crowd with the podium finish. Mercedes having solved their porpoising issues, were able to give the 7-time world champion a driveable car who with his genius and flawless drive could convert it into good points. His surprise double overtake in the final stages of the race was a great thrill to watch and had it not been for that 4+ second pit-stop for hard tires, Hamilton would've been competing for P1 since he did take home the fastest lap point. In 2017, we had "Here comes Sebastian Vettel" and now in 2022, an ever so swift Hamilton has given us "Through goes Hamilton."
Rating: 9/10
P4- Charles Leclerc
Charles dominated the whole race with his sheer brilliance and pace. He was able to generate enough downforce to produce fastest laps, with a broken front wing! He clearly deserved the victory, but could settle for P4 as the team chose not to give him fresher tires at the VSC. Once again, it was Ferrari turning out to be not as sharp as Leclerc in terms of strategy as Sainz basically made his own strategy calls while Leclerc follows his team's decisions.
Rating: 9/10
P5- Fernando Alonso
The wily 40-year old Spaniard always has some tricks up his sleeve in every race. He was strong throughout the weekend, occurring in the top 10 in all the sessions. However, lack of pace as compared to the championship competitors could only grant him P5, though he almost overtook Hamilton in the end.
Rating: 8/10
P6- Lando Norris
The young McLaren driver had a rather uneventful race and he stuck to the books to score good points for his team. He still doesn't seem very confident with his current car and with some more pace, could have secured P4. His battle and overtake on Hamilton at the start was rather good and his consistency means it is Mclaren that need to do more.
Rating: 8/10
P7- Max Verstappen
Max looked to take the victory by a fair margin today, up until the point early on in the race itself where a piece of Carbon-fibre damaged the underside of his car badly, and he lost his pace. However, due to his intuitive abilities, could keep the car in the points position till the very end. His battle in the end with Schumacher was enjoyable to watch, where he, with a broken car came out on top.
Rating: 8/10 
P8- Mick Schumacher
Mick looked particularly strong in the race, and rose into the top 10, starting P19, slightly assisted by the multiple DNFs from the race. Still, it's great to see the young German prove the critics wrong and secure his first F1 points. His battle with Verstappen was very brave and he almost had it till the finish line. The only issue was that it was his first battle with Verstappen meaning he either had to yield or go off track and DNF himself.
Rating: 9/10
P9- Sebastian Vettel
The 4-time world champion did not look particularly strong this weekend, however, had a nice recovery drive in the race, with the help of the race restarts and safety cars. He is yet to find good pace with his AMR21.
Rating: 7/10
P10- Kevin Magnussen
The Danish driver has had a strong comeback this year, and continues to show his worth as an F1 driver and in the team. This weekend though, his pace was relatively ok, and could score good points for his team, owing to the correct tire strategies and end the weekend on a happy note, greatly motivated for the next race.
Rating: 7/10
Special Mention
Nicholas Latifi: The 2019 F2 runner-up has been ridiculed and mocked at quite several times in these past couple of years. However, this weekend he looked very strong, despite the extremely tough qualifying conditions and having no upgrades on his car, qualified P10. His teammate, Alex Albon who had the upgrades had a slower pace in all the sessions as well. During the race he was a bit unlucky with the tire strategy and the safety car, but otherwise, a strong drive from him this weekend!