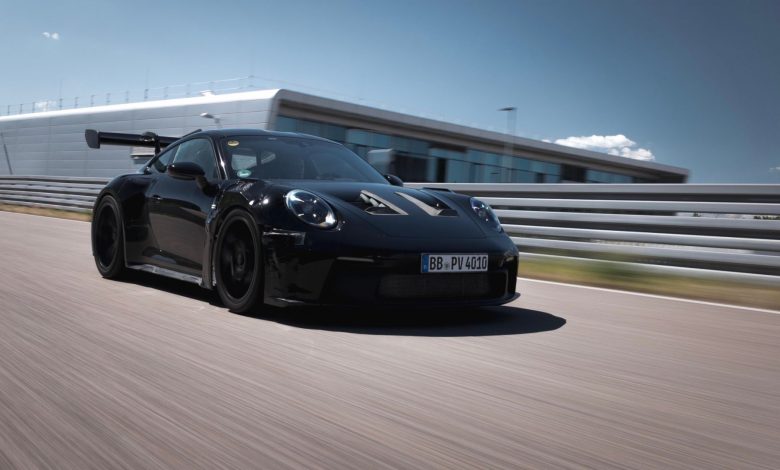 Porsche has released some teaser images of their upcoming and hotly anticipated top-of-the line speed demon, the 911 GT3RS. The launch is scheduled for August 17th and there are loads of expectations. Mostly because the previous ones have been so good that they went up extremely well in value. It wasn't just because of ow exclusive it remains but, how shockingly good it is on track for those that actually buy it for what its made. Now that we have rumoured and almost confirmed news of Porsche entering F1 in collab with RedBull, the GT3RS has an ever higher chance of being sold out no matter the asking price increase this year. The 992 911 GT3RS will be a menacing overhaul of the GT3 which was launched not that long ago.
[tie_slideshow]
[tie_slide]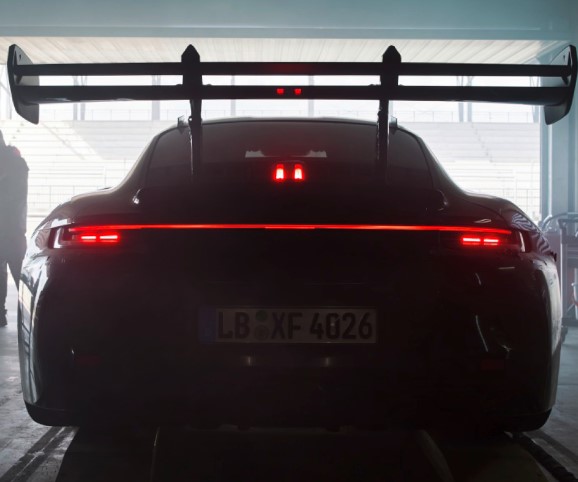 [/tie_slide]
[tie_slide]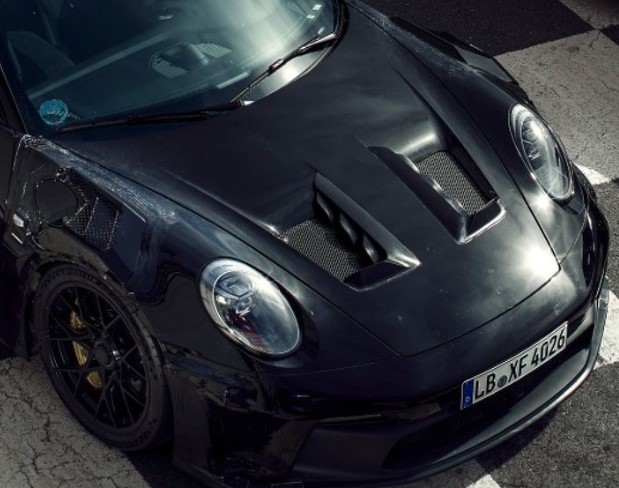 [/tie_slide]
[/tie_slideshow]
This new generation model Quoting Andreas Preuninger, Director GT Model Line, "The new 911 GT3 RS is even more optimised for track use than its predecessors. The spontaneously responsive, high-revving four-litre, six-cylinder boxer engine with approximately 500 PS has proven ideal for use at trackdays and club sport events. That's why we focused primarily on aerodynamics and chassis questions in the development of the new 911 GT3 RS." The design of this new car was inspired by the success of the 911 RSR and the previous 911 GT3 R GT race cars.
Let's see what we know about this car. The new GT3 RS is based upon generating the best performance possible, achieved by improving downforce. This will be done by using lightweight materials, aerodynamics and many-a-parts made of carbon-fibre. This new powertrain will also generate up to 20hp more power than its predecessors. For the unaware, the 911 GT3RS isn't about horsepower or straight-line speed but how many seconds under 7 minutes it shaves off for its lap around the Nurburgring. Porsche has officially stated that the 992 gen 911 GT3 RS will be powered by the tried-and-tested 4-litre "high revving" six-cylinder boxer engine. So, Porsche's naturally aspirated 6-cylinder engine. The only downside of it is the sound which is akin to a dyson vaccum especially with the rev limiters in Europe. Maybe the 911GT3RS gets a better exhaust though, much like always.