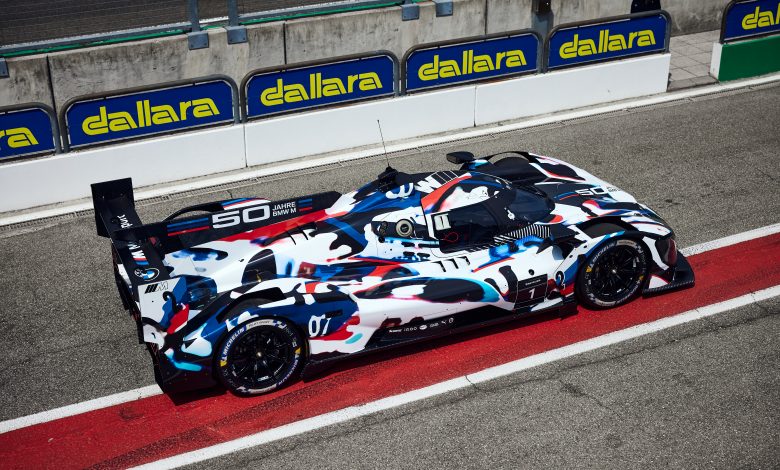 The iconic V12 LMR won BMW the Le Mans in 1999. Since then, its the first time that BMW's motorsport division has released a prototype for Hypercars and the endurance racing domain. Franciscus van Meel, CEO, BMW M GmbH announced on July 25 that the Hypercar, running on a hybrid V8 would participate in the WEC and the prestigious 24 Hours Le Mans in France in 2024. The car, whose images were also revealed, would get its first break in the IMSA WeatherTech SportsCar Championship in North America next year. He shared his enthusiasm for the new look of the M brand, moving towards electric mobility. To sum up the looks briefly – we hoped it was road legal.
The M Hybrid V8 engine will be the new P66/3 engine, developed along the lines of the NA P66/1 unit used in the DTM for the 2017 and 2018 seasons. The new 4L twin-turbocharged motor is capable of revving upto 8,200 RPM and produce an upwards of 640 hp and 650 Nm of torque.  Celebrating 50 years of the M division, the brand is looking to set new benchmarks for their future, not only in endurance machines, but also for road-legal ones like the M4 and M3 Touring vehicles.
Currently, the brand is focused at the IMSA series where they will debut the hypercar with the highly coveted Hybrid V8, which is also undergoing tests at the Dallara test track in Itay this week. The cars are being tested by BMW M Works drivers Connor De Phillipi and Sheldon van der Linde. The drivers for the IMSA and the WEC for 2024 are yet to be disclosed. At the Le Mans, they will be competing against the likes of Porsche, Acura, Toyota and Cadillac. Toyota Gazoo Racing took the win and first runners up spot for the 2022 24 Hours Le Mans event.