Formula 1
A Mercedes front row lockout as Russell knocks out Verstappen for P1 at the 2022 Sao Paulo Grand Prix Sprint Race!
Russell and Hamilton will lock out the front row for Mercedes for the first time this season.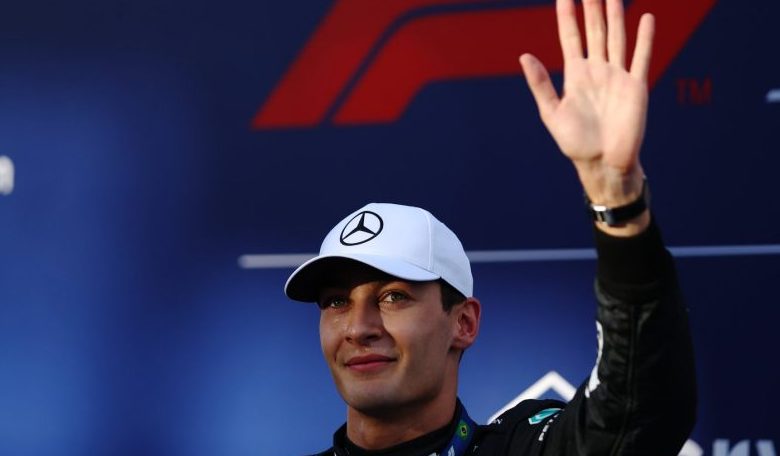 George Russell proved his racing mettle as he took the top spot in an epic battle with the World Champion all while Hamilton snatched places to lock out the front row. It wasn't how they finished though as Sainz edged out Hamilton at the finish line by around 4.5s but his grid penalty for taking a new PU will effectively put Russell and Hamilton on P1 and P2 respectively. This will be a first Mercedes front row lockout this season!
As it happened
It was lights out and away they went as both Russell and Magnussen had a brilliant start meanwhile Verstappen struggled with his start of the race. Norris came close to overtaking Verstappen at T1 as did Russell yet, the World Champion kept his line and his place. All this time, Magnussen not being touched by any of the drivers behind him! There was no change in Hamilton's position even though he had a good start but there was loads of action in front of him between the two teammates of Alpine Ocon and Alonso. Alonso was right alongside Ocon to overtake him as the young driver moved to the left forcing Alonso wide and making contact. Alonso rightfully said, "I lost the front wing thanks to our friend."
Verstappen then swapped places with Magnussen for P1 on Lap 3 as Hamilton took on Ocon for P6 having already gained a place by this time. It was a long lunge by Verstappen done beautifully. Magnussen lost his P2 to George Russell on the same lap as well as Russell took care of it with his speed advantage on the back straight. It was Carlos Sainz in his fierce red Ferrari overtaking Magnussen for P3 on Lap 4 as Hamilton started churning out the fastest lap. Hamilton gave 2 laps of breathing to Magnussen as he overtook him for P4 on Lap 6 having already taken care of Norris before. the tally stood at 4 places gained in 6 laps from P8 to P4. Not bad for the 2022 spec W13 Mercedes!
It was then Lap 9 when Perez had taken two places from Norris and Magnussen reaching P5 but the action happened P11 as Lance Stroll moved to the left on the straight during Vettel's overtake which made him go on the grass. He was handed a 10-second time penalty for this dangerous manoeuvre. Interestingly, Stroll did the very same thing in Austin during an overtake by Alonso.
Now came Lap 12 and the fierce battle between Russell and Verstappen began. To even see the W13 fighting for that place with the untouchable RedBull cars this season was amazing but the way Russell kept pushing Verstappen to his limits was even more incredible. George Russell truly showed immense mettle during this battle as he kept his cool during all his attempts at overtaking wherein Verstappen kept the place. Alex Albon brought out the yellow flag on Lap 13 after which racing resumed on Lap 15 and Russell was back on Verstappen's tale. He was a man on a mission and he accomplished it on Lap 15 at attempt number 3.
Things started to fall apart for Max from hereon as all the racing with Russell got him within the reach of Hamilton and Sainz who were sniffing this action from behind. Lap 19 was the moment Sainz came close enough and took P2 away from Verstappen as there was contact between the two and Verstappen lost his front wing endplate. It didn't take Hamilton long enough to take P3 from Max among the roar of the crowd at Brazil on Lap 20. This was the final finishing order for the top 3. Although, Sainz will have a grid penalty making it the first Mercedes front row lockout of the season and Hamilton's first front row start of the season. Some racing incoming eh!