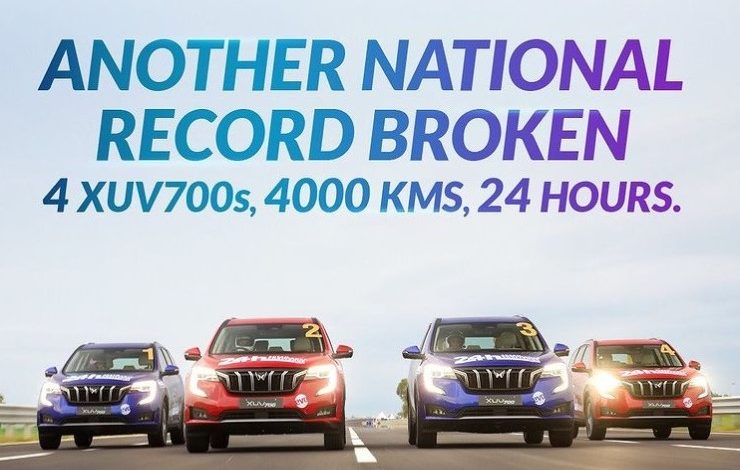 The folks over at Evo India partnered up with Mahindra to attempt at breaking a long-standing record- the longest distance covered by a car in 24 hours. They chose the Mahindra XUV700 as their weapon of choice, and the Mahindra SUV Proving Track (MSPT) near Chennai as their venue.
4 separate variants were chosen- a petrol manual, a diesel manual, a petrol automatic, and a diesel automatic. Akin to the legendary Le Mans 24 hour race, the challenge event was flagged off at 3PM. Drivers included big names like Vicky Chandhok, Rayomand Banajee, N. Leelakrishnan, Aravind KP, and even the founder of Evo, Sirish Chandran.
The cars were driven at an average speed of between 170-180 KM/H, despite changeable weather conditions and the fact that the cars had to make a pit stop every hour-hour and a half for fuel, changing tyres and so on. The drivers also changed, as when you consider the toll continuous driving at speeds in excess of 170KM/H does to the body, it's really remarkable that no one suffered any issues or such!
However, it's not just the drivers, it's also the car which has issues after being driven for such a long duration of time continuously, for 24 hours! During the pitstop, engineers also checked the internals and engine, such as to ensure both driver and car safety.
However, in the end they managed to achieve this remarkable feat, beating the previous record set in 2016 by a whopping 1200KM! The diesel manual covered 4384KM, the diesel automatic covered 4256KM, the petrol manual covered 4232KM and the petrol automatic covered 4155KM. This remarkable feat was certified by the FMSCI and the India Book Of Records as well, and whoever plans to beat this remarkable feat in the future will have to deal with a lot! It's a remarkable feat nonetheless, and a great achievement for the Indian motor industry.