News
BMW's covert launch for India is a new (and cheaper) variant of their X7 flagship SUV!
THE xDrive30d DPE (design pure excellence) trim has been launched at 92.50 lakhs ( ex showroom)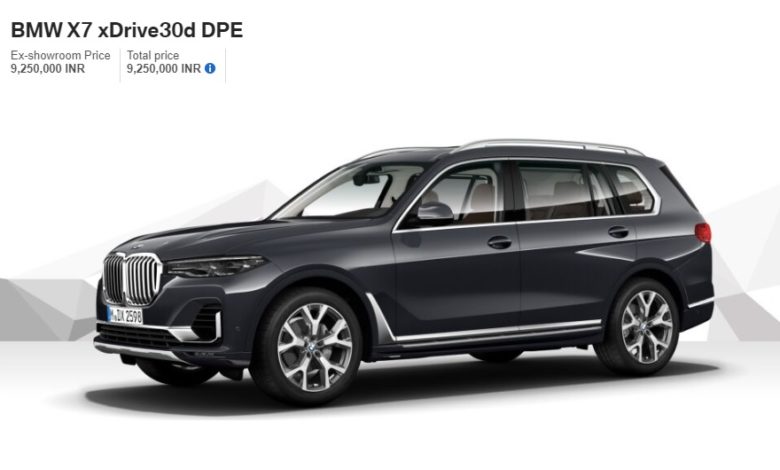 In 2019, the X7 was available in 2 variants, xDrive30d DPE signature and xDrive40i, both priced at 98.90 lakhs. Come 2020, the X7 can now be bought in 3 variants, namely, the new xDrive30d, along with the xDrive30d DPE and xDrive40i. However, the price of the xDrive30d DPE and xDrive40i has been updated from 98.90 lakhs to 1.03 crore and 1.07 crore. Another thing to note is that the X7 in 2019 could only be bought as an import, but now the X7 can be purchased as a CKD which means it will be completely assembled locally in India.
The Mechanics
Essentially, the entry level variant is significantly cheaper than the other variants, and in spite of being cheaper, it does not lose out on much in comparison to its more expensive variants.
The xDrive30d DPE shares the engine from the other variant (xDrive30d DPE signature) which is a 3.0 litre, V6, making 265 bhp and can accelerate from 0 to 100 in 8.1 seconds. The transmission box remains the same as well, which was a smooth 8 speed Steptronic gearbox. Furthermore, as both powertrains belong to the 'X' range, this infers that these SUVs have a 4 wheel drive system. 
xDrive30d DPE vs xDrive30 d signature
Their names might sound extremely alike, but these 2 variants have a few differences, with respect to the interiors and exteriors. On the outside, the base end X7 loses out on BMW's well acclaimed laser lights, instead it has adaptive LED lamps. Furthermore, it does not have the soft close function for doors, 360 degree camera, active cruise control. 
On the inside, the base end has a 4 zone climate control instead of the 5 zone climate control, and the passenger and driver do not have ventilated seats either. The base model gets a new 12.3 inch instrument panel, along with a high resolution 12.3 infotainment system, gesture control, and a 20 gb hard-drive. These features are expected at such a price point, but in comparison to the other 2 variants, features like the tyre monitoring system, and the rear seat entertainment package which is two 10.2 inch screens, are skipped. 
Conclusion
The base end xDrive30d DPE is almost Rs. 8 lakhs cheaper than the Signature variant, and on being cheaper it does lose out on a few features, but this does not make it any less able vehicle. It sports the same engine, the same safety features such as 9 airbags, Active Park Distance Control, Auto-Hold function, cornering brake control, dynamic traction control and a few other features. This proves that in spite of losing out on a few features, this variant at its price point still seems like a great deal.