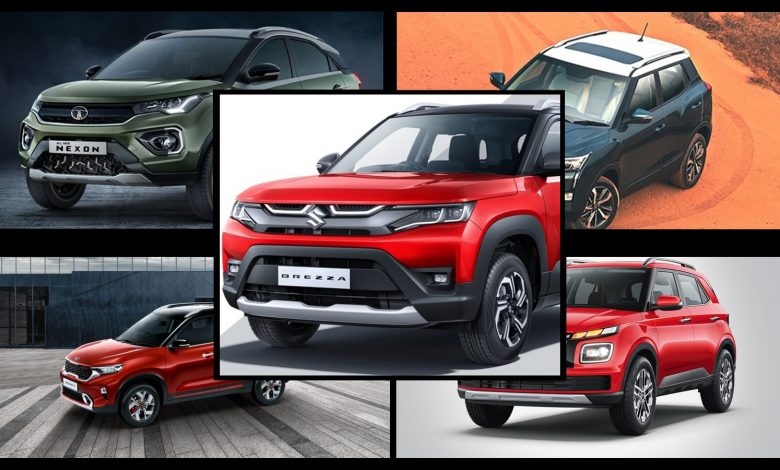 Maruti has officially taken the wraps off of the new Vitara Brezza, in its first facelift after the BS6 transition in 2020. It gets a host of new features, along with an all new petrol engine and transmission. On the other hand, not to be left behind, Hyundai has also unveiled the facelifted Venue, adding new feel-good features and doing a variants rejig on the way. The already crowded segment has just gotten hotter with the arrival of these two mavericks, locking horns with the Tata Nexon (the segment leader off-late), the Mahindra XUV300 and the Kia Sonet, each offering their own set of virtues. Which one makes the most sense for you for your money? Perhaps this comparo will help.
Specifications
| | | | | | |
| --- | --- | --- | --- | --- | --- |
| | Maruti Suzuki Brezza | Hyundai Venue | Kia Sonet | Tata Nexon | Mahindra XUV300 |
| Length | 3995 mm | 3995 mm | 3995 mm | 3994 mm | 3995 mm |
| Width | 1790 mm | 1770 mm | 1790 mm | 1811 mm | 1821 mm |
| Height | 1685 mm | 1590 mm | 1647 mm | 1607 mm | 1617 mm |
| Wheelbase | 2500 mm | 2500 mm | 2500 mm | 2498 mm | 2600 mm |
| Boot space (litres) | 328 L | 350 L | 392 L | 350 L | 257 L |
Not much to report here. All of them have similar lengths (due to Indian taxation laws on cars). The Mahindra is the widest, at 1821 mm (no surprises here, given that it's based on the much larger Ssangyong Tivoli sold abroad). The Venue, at 1590 mm is the shortest here and the Brezza the tallest at 1685 mm. The XUV300 has a class-leading wheelbase of 2600, reflected in its roomy cabin; however, it has the worst boot space at 257 liters. The Sonet has the biggest boot of 392 liters, however, it is the only one without 60:40 split rear seats. All of the cars get 16″ wheels as standard (the lower variants of the Sonet and venue get 15″ wheels) while the XUV300 gets 17″ wheels on the top variants.
Features
Off late, "features" has been the mantra required to crack the Indian automotive market, and with good reason. They are easy to implement and are easy differentiators in a crowded segment where cars vie for the customer's attention.  The compact SUV segment is no different, with segment-basic features like touchscreens, auto headlights, automatic climate control, connected car technology, LEDs all around, cruise control, push start-stop button and sunroof being a given. Yes, that's right. The Brezza (in a first for a Maruti) gets the much-coveted sunroof, Maruti clearly having realized the importance of a sunroof as a selling point.
| | | | | | |
| --- | --- | --- | --- | --- | --- |
| | Maruti Suzuki Brezza | Hyundai Venue | Kia Sonet | Tata Nexon | Mahindra XUV300 |
| Headlights | LED bi-beam projectors | LED projectors | LED reflectors | Halogen projectors | Halogen projectors |
| Foglamps | LED | None | Halogen projectors | Halogen reflectors | Halogen reflectors |
| Daytime Running Lamps (DRLs) | LED | LED | LED | LED | LED |
| Sunroof | Yes | Yes | Yes | Yes | Yes |
| Touchscreen size (inches) | 9" | 8" | 10.25" | 7" | 7" |
| Wireless Android Auto and Apple CarPlay | No | Yes | Yes | No | No |
| Ventilated front seats | No | No | Yes | Yes | No |
| Auto-headlights | Yes | Yes | Yes | Yes | Yes |
| Auto-wipers | Yes | No | No | Yes | Yes |
| Cruise control | Yes | Yes | Yes | Yes | Yes |
| Cooled glovebox | Yes | Yes | No | Yes | No |
| Rear AC vents | Yes | Yes | Yes | Yes | No |
| Heads-up display | Yes | No | No | No | No |
| 360-degree camera | Yes | No | No | No | No |
The Sonet plays the features card very effectively, ticking nearly every checkbox in the list, including the much sought-after ventilated front seats. It does, however, miss out on some basics like 60:40 rear split seats and a cooled glovebox, both of which its sibling a.k.a. the Venue gets. The Brezza is the only one with a Head-Up Display (HUD) and a tilt-and-telescopic adjustable steering wheel. Reclining rear seats and a powered driver's seat is exclusive to the Venue.
While the Tata and Mahindra lack a little in features compared to their rivals, they hit back with safety. Companies have now recognized safety as a selling point and customer trends too seem to acknowledge the same. Both the Nexon and XUV300 have scored a full 5 stars in the Global NCAP crash tests, and the Brezza wasn't too far behind with the older model getting 4 stars out of 5. Though, it remains to be seen how the facelifted version will perform but, we have high hopes owing to the previous iteration.
The Venue and Sonet have not been crash-tested though, however, based on the results of the Kia Seltos and Hyundai Creta, their respective elder siblings, their safety credentials are questionable. All cars are however equipped with ESP (Electronic Stability Control) and hill-hold. The Nexon, shockingly, gets only 2 airbags; its rivals get 6 airbags (on their top variants) while the XUV300 gets a class leading 7 airbags! (including a driver knee airbag)
| | | | | | |
| --- | --- | --- | --- | --- | --- |
| | Maruti Suzuki Brezza | Hyundai Venue | Kia Sonet | Tata Nexon | Mahindra XUV300 |
| Electronic Stability Program (ESP) | Yes | Yes | Yes | Yes | Yes |
| Traction control (TC) | Yes | Yes | Yes | Yes | Yes |
| Hill-hold | Yes | Yes | Yes | Yes | Yes |
| Tire Pressure Monitoring System (TPMS) | No | Yes | Yes | Yes | Yes |
| Rear disc brakes | No | No | No | No | Yes |
| No. of airbags | 6 | 6 | 6 | 2 | 7 |
| GNCAP rating | 4/5 (pre-facelift) | NA | NA | 5/5 | 5/5 |
Engines and drivetrain
Another aspect where customers are spoilt for choice in this segment is the variety of engines and transmissions offered. There's one for every budget.
Maruti Suzuki Brezza
Hyundai Venue
Kia Sonet
Tata Nexon
Mahindra XUV300
Type
4 cyl NA
4 cyl NA/3 cyl turbo
4 cyl NA/3 cyl turbo
3 cyl turbo
3 cyl turbo
Displacement
1462 cc
1197 cc/998 cc
1197 cc/998 cc
1198 cc
1197 cc
Power (hp)
103 hp
82 hp/118 hp
82 hp/118 hp
120 hp
110 hp
Torque (Nm)
137 Nm
115 Nm/172 Nm
115 Nm/172 Nm
170 Nm
200 Nm
Manual gearbox
5-speed
5-speed (1.2P) /6-speed iMT (1.0P)
5-speed (1.2P) /6-speed iMT (1.0P)
6-speed
6-speed
Automatic gearbox
6-speed torque converter
7-speed DCT
7-speed DCT
6-speed AMT
6-speed AMT
ARAI mileage: MT (kmpl)
20.15 kmpl
17.3 kmpl (1.2P)/18.1 kmpl (1.0P)
18.4 kmpl (1.2P)/18.2 kmpl (1.0P)
17 kmpl
17 kmpl
ARAI mileage: AT (kmpl)
19.80 kmpl
18 kmpl
18.3 kmpl
NA
NA
The Maruti Suzuki Brezza brings in an all-new 1.5L naturally-aspirated petrol with improved mechanicals which promise higher fuel efficiency. After all, that's what Maruti is known for, isn't it? The rest of the competition, on the other hand, bring in complex new-age turbo-petrol engines (Kia and Hyundai use a common 1.2 NA petrol for the lower end models.).
With the automatics, Maruti has chosen to go for the tried-and-tested torque converter, versus the Indians offering AMTs (Automated Manual Transmissions), which being mated to turbo-petrols, aren't known for their smoothness and shift quality. The DCT on the Hyundai-Kia combo, while smooth and fast shift times, is not the last word on reliability. Tata's petrol needs more refinement, while Mahindra's petrol is surprisingly potent.
Hyundai Venue
Kia Sonet
Tata Nexon
Mahindra XUV300
Type
4 cyl turbo
4 cyl turbo
4 cyl turbo
4 cyl turbo
Displacement
1493 cc
1493 cc
1497 cc
1497 cc
Power (hp)
99 hp
99 hp (MT)/
110 hp
115 hp
115 hp (AT)
Torque (Nm)
240 Nm
240 Nm (MT)/
260 Nm
300 Nm
250 Nm (AT)
Manual gearbox
6-speed
6-speed
6-speed
6-speed
Automatic gearbox
NA
6-speed torque
6-speed AMT
6-speed AMT
converter
ARAI mileage: MT (kmpl)
23.3 kmpl
24.1 kmpl
22.4 kmpl
20 kmpl
ARAI mileage: AT (kmpl)
NA
19 kmpl
NA
NA
In the diesels, the Kia is the clear winner, offering a segment first and much sought after diesel-torque converter combo, with the efficiency of a diesel and smoothness and reliability of a torque converter. As is with the petrols, 6-speed AMTs are offered with the Nexon and the XUV300 too. If outright power and torque is what you desire, the XUV300 will leave you grinning with a full 300 Nm of torque.
Pricing
The compact SUV segment spans a wide range of prices. While the Nissan Magnite and Renault Kiger making up the lower end of the segment, it's the Kia with the lowest prices, starting at 7.15 lakh for the 1.2 petrol. The Venue isn't too far behind, starting at 7.53 lakh; the Nexon, at Rs 7.54 lakh for the base model isn't too far behind. The Brezza, however, benefits from the new technology, features and engines and that's reflected in the pricing too, with the base variant starting at 7.99 lakh. The XUV300, at a base price of 8.41 lakhs, is priced a little too optimistically and the Urban Cruiser (to be replaced with the facelifted model) tops out at Rs 9.02 lakh for its base variant.
While the mid-variants of the new Brezza are decently priced, the top-end automatics make little sense to spend on, given there are better equipped rivals out there. At Rs 13.80 lakh, the ZXi+ AT is priced quite high, especially when you consider the Nexon top-end petrol AMT is priced at Rs 12.39 lakh and the XUV300 W8(O) AMT at Rs 13.06 lakh. The Sonet isn't too far off, with the GTX+ DCT priced at Rs 13.09 lakh. Even the new Venue tops out at Rs 12.57 lakh for the 1.0 SX(O) DCT.
The Sonet GTX+ AT diesel is priced at Rs 13.69 lakh but benefits from lack of direct competition, while the Nexon XZA+ AMT is shockingly priced the same as the Sonet, and the XUV300 W8(O) AMT diesel costs Rs 13.92 lakh! Too much to pay for an AMT? Definitely. I'd pick the Sonet.
Conclusion
Every SUV here has its pros and cons. The Brezza looks great, is more feature-loaded (than before) and gets some segment-first features, but is priced at quite a premium and the engine, while adequate, is hardly exciting and might leave you wanting for more, especially on the highway. Though, a less powerful or exciting engine does mean better fuel efficiency for daily driving in the city. With the rising inflation and fuel prices, efficiency would be far more exciting than driving dynamics.
The Hyundai-Kia twins are terrifically loaded with features and technology, have great drivetrains, but suffer from smaller rear seats and questionable safety. The Indian offerings from Tata and Mahindra combat both disadvantages by providing great all-round space and segment-best safety rating, however are not as feature rich as the competition and are still offered with AMTs when the competition is far ahead. Eventually, it should boil down to safety, features and efficiency in one package because let's face it, this segment is not meant to give the owners a thrill of drive but rather provide a comforting ride both in terms of quality and costs.
The Brezza is a competent, if expensive, family vehicle, mainly suited for the city with a relaxed auto box and paddle shifters, and some gizmos to keep you happy. The Nexon is a true jack-of-all-trades, competent in all areas and won't leave you disappointed. Just don't get frustrated with that AMT. The XUV300 is easily the pick for the highway, with its all-round disc brakes, comprehensive safety package and strong performance from both engines, but only let down by that abysmal boot. It's getting a little old too.
The Sonet offers way too many goodies and a USP in the form of a diesel automatic, but is a touch pricey and rear space is a little cosy. Safety ratings are also suspect. The Venue is a better value proposition in its facelifted form but the styling may not appeal to everyone (seriously, what's up with Hyundai's designs nowadays?) Every SUV here caters to some specific needs. All we can say is, if you're a customer in this segment today with a budget of about 15 lakhs, you can pick your CUV based on the above.